---
Gina Davis, MS, CGC
Founder, CEO
Gina Davis is the founder of Advocate Genetics, and a multi-state licensed, board-certified genetic counselor, who specializes in the field of reproductive medicine. Gina is also a co-founder of EM•POWER with Moxi, an education company dedicated to empowering choice and community in embryo donation, which recently received federal funding for their work in this space.
While building Advocate Genetics from 2014-2019, Gina also served as genetic counselor and medical science liaison for PacGenomics, a clinical genetics laboratory specializing in single-cell technologies. Prior to that time, she served as genetic counselor in an academic REI practice, the University of California, San Francisco's Center for Reproductive Health, from 2004 to 2013. While studying to become a genetic counselor, Gina served as a medical assistant at two private fertility practices in Southern California, and conducted research at a UC Irvine molecular genetics lab. She has been immersed in the field of reproductive medicine her entire career, and brings a wealth of knowledge in working with both practitioners and patients.
Gina has helped to shape the role of the genetic counselor within the field of Reproductive Medicine. She has assisted in the training of fellow genetic counselors, physicians, nurses, other health care practitioners and undergraduate students in reproductive genetics through lectures, small group facilitation and mentoring . She has given numerous presentations at professional and patient support meetings, and has been co-author of diverse publications within the field. Gina is the past chair and current member of the Genetic Counseling Special Interest Group of the American Society of Reproductive Medicine (ASRM). She is an active member of the Assisted Reproductive Technology Special Interest Group of the National Society of Genetic Counselors (NSGC), a member of the Pacific Coast Reproductive Society and the Society for Ethics in Egg Donation and Surrogacy. She has worked as a volunteer with the March of Dimes. She is also a member of the Medical Advisory Committee of Reprotech Ltd. , the leading cryobank specializing in long-term storage of reproductive tissue.
"As a prior fertility patient myself, I feel I engage with patients with greater compassion and appreciation of the emotional complexity of reproductive medicine. I understand that given the rapid advances in genetics and reproductive medicine, it is becoming increasingly difficult for patients and physicians alike to gather this information on their own and make deliberate and conscientious use of it. My practice is dedicated to addressing the unique questions and concerns of each patient or couple, to help them make educated decisions about their options."
---
Heather Kamen, MS, CGC
Director of Genetic Counseling Services
---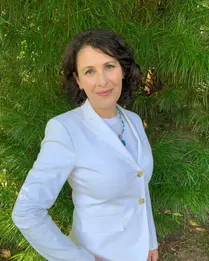 Heather Kamen is a board-certified and multi-state licensed genetic counselor, practicing for over 20 years. She has expertise in cancer, prenatal, and reproductive genetics. Heather obtained her BA in Biology from Brandies University in the Boston area and her MS in Human Genetics from Sarah Lawrence College in New York.

Heather has served as a clinical prenatal counselor at a major New York City medical center, a private maternal fetal medicine practice in Connecticut, and a community hospital in a New York City suburb, where she also served as the genetic counselor for the affiliated IVF program . In 2017, Heather joined a commercial genetics laboratory providing counseling and education to patients regarding their expanded carrier screening, non-invasive prenatal screening, and cancer predisposition testing results.She also has experience mentoring genetic counseling students and prospective genetic counseling students and co-authored a poster with Sequenom for a case study involving trophoblast mosaicism.
Heather's interest in reproductive medicine was sparked many years ago when she became a clinical research assistant on an NIH funded study at Brigham and Women's Hospital in Boston on the utility of IUI with and without ovarian stimulation. There she was also able to work with a reproductive endocrinologist who focused on recurrent pregnancy loss.

Heather is excited to join Advocate Genetics and focus on reproductive medicine where she strives to help individuals integrate complex genetic information into their reproductive journeys in the ever-evolving field of assisted reproduction.
---
Claire Shepherd, MS, CGC
Internship & GC Prep Course Director
---
Claire Shepherd is a board-certified and licensed genetic counselor. She earned her BS in Biological Science from the University of Calgary in Alberta, Canada. Claire conducted undergraduate research for the Molecular Genetics Laboratory at the Alberta Children's Hospital. Following her research, she co-authored a publication for the Journal of Obstetrics and Gynecology Canada. Additionally, Claire dedicated time volunteering at the Calgary Distress Centre as a Distress Line Volunteer. She also volunteered at a therapeutic riding center, where children with disabilities were given the opportunity to ride horses.
She moved to the United States to pursue a career that combined her love of genetics with her desire for helping others. Claire obtained her Master of Science in Genetic Counseling from Augustana University. During graduate school, Claire discovered her passion for reproductive medicine. She devoted her final practicum to researching the value of reproductive genetic counseling and had the opportunity to observe and interact with many reproductive specialists. She also focused her graduate thesis project on developing patient-friendly resources on Preimplantation Genetic Testing for Monogenic Disorders (PGT-M).
Claire is thrilled to start her career at Advocate Genetics where she strives to provide thorough and compassionate genetic counseling to all. She feels honored to support and collaborate with patients throughout their reproductive journey.
---
Christina Ren, MS, CGC
Genetic Counselor
---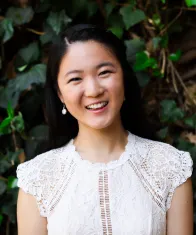 Christina Ren is a board-certified and licensed genetic counselor. She received her Bachelor's in Biology from Stanford University and her Master of Science in Genetic Counseling from California State University, Stanislaus, where she trained and worked at the University of California, San Francisco and Kaiser Permanente.
Christina has a long-standing interest in reproductive genetics and health. Her graduate thesis provided a comprehensive assessment of US fertility clinics' practices and policies on embryo transfer based on preimplantation genetic testing (PGT) results, which she presented at the American Society for Reproductive Medicine (ASRM) Scientific Congress . During graduate school, she also worked with reproductive genetic counselors at Natera , a commercial genetics laboratory, and provided genetic counseling to patients pursuing fertility treatment at a private fertility clinic in San Francisco.
Most recently, Christina currently joined an early-stage genetics startup building a new type of preconception genomic test. She is excited to work with patients at Advocate Genetics and be a part of their genetic and reproductive journeys.
---
Madi DeLoria, MS, CGC
Genetic Counselor
---
Madi DeLoria is a licensed and board-certified genetic counselor. She earned her Bachelor of Arts in psychology with a minor in biology from University of California, San Diego. After receiving her undergraduate degree, Madi spent time working with individuals with autism spectrum disorder and young children with developmental delays. She later worked as a member of the sales team at a genetic testing company before deciding to pursue her dream of becoming a genetic counselor. A northern California native, she returned to the area, where she obtained her Master of Science in genetic counseling from California State University, Stanislaus with courses and clinical experience at University of California, San Francisco, Kaiser Permanente and other sites around the San Francisco Bay Area. During graduate school, she worked for the Kaiser Permanente National Offices on the Genomic Strategy and Implementation team, where she learned a great deal about the inner workings of the healthcare system. Madi's interests in the genetic counseling field lie in the prenatal and reproductive medicine space. Her graduate thesis explored the experiences of women receiving failed non-invasive prenatal screening (NIPS) results. She co-authored a poster based on this research that was accepted at the ACOG 2020 annual conference. After graduating Madi worked as a medical specialist for a commercial genetics laboratory where she now provides genetic counseling to patients.
---
Adrianne Naddell
Office Manager
---
Adrianne Naddell studied Occupational Education and Health Care Administration at Wayland Baptist University and completed the Genetics Assistant training program through the Johns Hopkins School of Medicine. A tenacious learner, she put herself through college while working full-time as a manager in wholesale, even with multiple moves as a military spouse. She and her husband were challenged by infertility and were eventually able to have their children through IVF. She found it a great privilege to spend her childrens' infant and toddler years at home with them, and pursued an opportunity to work with children with special needs when her children went to school. She is happy now to assist those who, like her, have experienced difficulty with fertility and long to be parents. She brings compassion, diligence, and attention to detail in her work with Advocate Genetics, understanding the critical importance of this work in helping people create their own precious families.
"Having been through the process of trying to conceive through IUI and IVF, I feel a strong empathy for those in similar situations. As a patient myself, I believe such experience is of great importance when working with families going through the emotional roller coaster of reproductive medicine."
---
Yasaman Lorkalantari
Genetic Counseling Assistant
---
Yasaman Lorkalantari is a current graduate student at the UC Irvine Genetic Counseling Program, and a recent graduate of UC Irvine who majored in Genetics. She loves how the field of genetic counseling focuses on the human impact of genetics and on supporting patients. She has previously volunteered with a crisis hotline and completed her undergraduate thesis on students' experience with virtual education. Yasaman is also very interested in the ethical aspects of genetic counseling and has worked on an article regarding the ethics of PGT-P testing as part of her internship with Advocate Genetics. She has served as our Genetic Counseling Assistant for the past year, keeping our genetic counselors organized and attending to patient care. She has also presented journal clubs for Advocate on the views of parents/patients with genetic disorders on expanded carrier screening and on the concerns of Iranian women regarding infertility and egg donation. Yasaman intends to continue pursuing a career in genetic counseling and research after completing her Master's degree.

---
Dominique (Nikki) Alexander
Genetic Counseling Assistant
Newsletter/Blog Editor
---
Nikki Alexander is a current graduate student at the Rutgers Genetic Counseling Program, and a recent graduate of the University of Nevada-Reno Neuroscience Program, where she also obtained minors in Biology and English: Cinema and Media Studies. Following her completion of the Advocate Genetics GC Prep Program, she joined our Newsletter and Blog Team, where she has demonstrated her nuanced understanding of concepts important to patient-centered genetic counseling. Her first piece shared the work of Arielle Silverman and the unique role genetic counselors have in disability advocacy and reproductive autonomy. Her second piece brings together findings from fellow intern Brian Earle's showcase project on The New Eugenics by Judith Daar, with discussions our internship had during a watch party of the 1997 film Gattaca, and the role genetic counseling has in shaping dialogue and conceptualization about the uses of genetic testing. She has recently moved into a staff position at Advocate Genetics as a part-time Genetic Counseling Assistant, and our Newsletter and Blog Editor, where she has written numerous blog posts, including Genetic Counseling Graduate School Applications: How to Stand Out, Genetic Counseling Admissions: Match Insights and Advice from Applicants of the 2023 Cycle, and #GradSchoolSoWhite: Efforts To Diversify a Homogenous Field.
---
Dorothy Li
Genetic Counseling Assistant
---
Dorothy Li is a current graduate student at the UCSF Genetic Counseling Program, and previously completed her BA in Molecular Cell Biology with a minor in Bioengineering at UC Berkeley. During undergrad, she worked as a Student Instructor for an introductory chemistry course and a student-led cancer class. After graduating, she obtained her ASCP certification and CGMBS licensure and worked as a Clinical Laboratory Scientist at various genetic testing companies. During her experience in the Advocate Genetics GC Prep Program, Dorothy wrote a blog article on The Great PGT-A Debate, and later co-facilitated a weekly discussion group in the Fall 2022 cohort. Dorothy continued as a leader at Advocate in the roles of showcase mentor and flex team participant in 2023, and has recently joined our team as a part-time Genetic Counseling Assistant. Dorothy was born in China and raised in Southern California. In her free time, she enjoys playing board games, traveling, and watching reality TV shows. She is fluent in Mandarin Chinese and has basic knowledge in Korean.